Andrew (Andy) Laing was born in Aberdeen. He started learning the violin when he was five years old and by the age of sixteen was appointed leader of the National String Orchestra of Scotland. He then gained a place at the Royal Academy of Music, where he studied violin with David Martin and later with Frederick Grinke. Andy won numerous prizes & scholarships at the RAM. While still a student he was appointed leader of the Morley College Symphony Orchestra, also regularly leading the Ealing Symphony Orchestra, the Hatfield Philharmonic and the Forest Philharmonic.
At the RAM Andy formed and led the Locrian String Quartet under the guidance of Sidney Griller. The Quartet won many prizes and scholarships, was appointed 'Quartet in Residence' at the University of Hertfordshire, broadcast on BBC radio and TV and gave numerous first performances of works by composers such as Nyman, Crosse and Panufnik.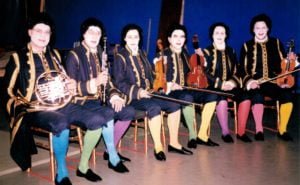 After leaving the Locrian Quartet, Andy was appointed sub-leader of the BBC Radio Orchestra, then Leader of the London City Ballet Orchestra. In the 90s, Andy spent much time on stage at the Royal Shakespeare Company, where he met his wife, Rachel (also a professional violinist, and daughter of violinist Jurgen Hess.) They now have two teenage sons, Peter and Calum, both of whom play violin. They have both represented Kent County in athletics. Andy is a keen amateur astronomer and if music had not been his first love, it is entirely possible that a career involving the stars may have followed!