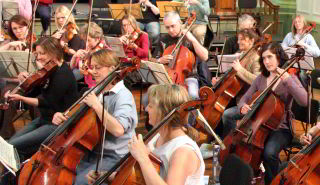 The orchestra rehearses on Mondays from 19:30 to 22:00 at Bishop Justus CE School, Magpie Hall Lane, Bromley BR2 8HZ. Please bring a music stand to rehearsals. Bowed string parts are available online after the first rehearsal and string players mark up their own parts. Tea, coffee and biscuits are normally available for 50p during the rehearsal interval – please bring your own mug if possible.
We welcome applications from prospective members and ask new members to complete a registration form and Gift Aid declaration after their first rehearsal. We collect an annual subscription from members who attend rehearsals, with a 50% discount for students. Seating positions are rotated where possible and there are opportunities to perform solo parts.
Playing members commit to the full rehearsal series for each concert they play in. If an absence is unavoidable please contact your section leader immediately, and if you were due to rehearse a solo part, please find a deputy. Members are also expected to put in the necessary time outside rehearsals to learn and practise the pieces they perform, and to promote ticket sales for all the orchestra's concerts.
There is a facebook members group 'BSO Tutti', an official facebook page to like and follow, a twitter feed @BromleySymphony and an Instagram account bromleysymphony. Many instrument sections have WhatsApp groups – ask your section leader to be invited. Some members socialise at The Two Doves in Oakley Road after rehearsals and The Railway in West Wickham after concerts.
Rehearsal and Event Schedule
Monday 9th Oct, 2023
19:30 - 22:00


19:30 Dvořák Mov 4, 2

21:00 Rachmaninov

Monday 23rd Oct, 2023
19:30 - 22:00


19:30 Dvořák Mov 1, 3, 4, 2

21:15 Rachmaninov

Monday 30th Oct, 2023
19:30 - 22:00


19:30 Debussy

21:00 Berlioz

Monday 6th Nov, 2023
19:30 - 22:00


19:30 Rachmaninov

20:30 Debussy

21:00 Dvořák

Saturday 11th Nov, 2023
14:00 - 17:00


14:00 Dvořák

15:00 Berlioz

15:30 Debussy

16:00 Rachmaninov

Saturday 11th Nov, 2023
19:30 - 22:00


Berlioz Béatrice et Bénédict
8' 2(picc) 2 2 2 4 3 3 0 T strings

Rachmaninov Piano Concerto 4
31' 3(picc) 3(CA) 2 2 4 2 3 1 T percs str

Debussy Prélude à l'après-midi d'un faune
10' 3 2 CA 2 2 4 0 0 0 2hp 1 antique cymbals str

Dvořák Symphony 5
35' 3(picc) 2 CA 2 2 4 2 3 1 T triangle hp str

Monday 13th Nov, 2023
19:30 - 22:00


19:30 Rehearsal

Monday 20th Nov, 2023
19:30 - 22:00


19:30 Sectionals

Monday 27th Nov, 2023
19:30 - 22:00


19:30 Rehearsal

Monday 4th Dec, 2023
19:30 - 22:00


19:30 Rehearsal

Monday 11th Dec, 2023
19:30 - 22:00


19:30 Rehearsal

Monday 8th Jan, 2024
19:30 - 22:00


19:30 Rehearsal

Monday 15th Jan, 2024
19:30 - 22:00


19:30 Rehearsal

Saturday 20th Jan, 2024
14:00 - 17:00


14:00 Rehearsal

Saturday 20th Jan, 2024
19:30 - 22:00


Rawsthorne Street Corner Overture
5' 2(picc) 2 2 2 4 2 3 1 T 2 percs (cym tri SD xylo tamb) str

Walton Violin Concerto
31' 2(picc) 2(CA) 2 2 4 2 3 0 T 2 percs (SD cym tamb xylo) hp str

Tchaikovsky Symphony 5
50' 3(picc) 2 2 2 4 2 3 1 T str

Monday 22nd Jan, 2024
19:30 - 22:00


19:30 Rehearsal

Monday 29th Jan, 2024
19:30 - 22:00


19:30 Sectionals

Monday 5th Feb, 2024
19:30 - 22:00


19:30 Rehearsal

Monday 19th Feb, 2024
19:30 - 22:00


19:30 Rehearsal

Tuesday 20th Feb, 2024
19:00 - 21:30


Note Tuesday and early start

19:00 Rehearsal

Monday 26th Feb, 2024
19:30 - 22:00


19:30 Rehearsal

Monday 4th Mar, 2024
19:30 - 22:00


19:30 Rehearsal

Saturday 9th Mar, 2024
14:00 - 17:00


14:00 Rehearsal

Saturday 9th Mar, 2024
19:30 - 22:00


Bizet L'Arlésienne
(Suite 1 complete, Suite 2 movements 1, 4)
27' 2(picc) 2(CA) 2 alto sax 2 4 2+2 (cornets) 3 0 T 3 percs (tamb cym BD) hp str

Debussy Jeux
17' 4(2 picc) 4(CA) 4(BCl) 4(sarrusophone) 4 4 3 1 T 3 percs (tri tamb xylo cym) celeste 2hp str

Franck Symphonie in d min
37' 2 2 CA 2 BCl 2 4 4 (2 cornets) 3 1 T hp str

Monday 11th Mar, 2024
19:30 - 22:00


19:30 Rehearsal

Monday 18th Mar, 2024
19:30 - 22:00


19:30 Sectionals

Monday 25th Mar, 2024
19:30 - 22:00


19:30 Rehearsal

Monday 15th Apr, 2024
19:30 - 22:00


19:30 Rehearsal

Monday 22nd Apr, 2024
19:30 - 22:00


19:30 Rehearsal

Monday 29th Apr, 2024
19:30 - 22:00


19:30 Rehearsal

Tuesday 7th May, 2024
19:00 - 21:30


Note Tuesday and early start

19:00 Rehearsal

Saturday 11th May, 2024
14:00 - 17:00


14:00 Rehearsal

Saturday 11th May, 2024
19:30 - 22:00


Wagner Flying Dutchman Overture
11' 3(picc) 2(CA) 2 2 4 2 3 1 T hp str

Haydn Symphony 85 La Reine
20' 1 2 0 2 2 0 0 0 str (88642)

Wagner Götterdämmerung
Dawn and Siegfried's Rhine Journey
10′ 4(123 picc) 4(123CA) 4(123BCl) 3

Siegfried's Funeral
8′ 8(4 Wagner tubas) 4(123Btr) 4 1

Immolation Scene
18' 2T 3 percs (snare tri cym tam glock) 2hps str

Monday 13th May, 2024
20:00 - 22:30


20:00 AGM, library