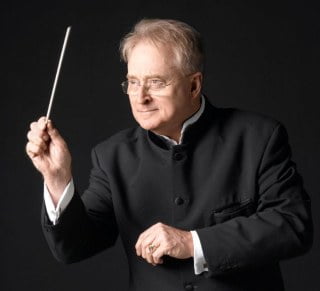 Adrian Brown comes from a distinguished line of Sir Adrian Boult's most gifted pupils. After graduating from the Royal Academy of Music in London, he studied intensively with Sir Adrian for some years. He remains the only British conductor to have reached the finals of the Karajan Conductors' Competition: in fact, the Berlin Philharmonic was the first professional orchestra he conducted. Sir Adrian wrote: 'He has always impressed me as a musician of exceptional attainments who has all the right gifts and ideas to make him a first-class conductor.'
In 1992 Adrian Brown was engaged to conduct one of the great orchestras of the world: the St. Petersburg Philharmonic Orchestra. In 1998 Sir Roger Norrington recommended him to conduct the Camerata Salzburg, one of Europe's foremost chamber orchestras. In addition, Adrian has conducted many leading British orchestras including the City of Birmingham Symphony Orchestra, the BBC Symphony Orchestra, the BBC Scottish Symphony Orchestra and the London Sinfonietta. He is also a great proponent of contemporary music and has several first performances his credit.
The autumn of 2019 saw a return to the Royal Orchestral Society and the London Chorus performing Verdi's Requiem in St John's Smith Square along with more Berlioz with many different orchestras for that composer's 150th anniversary. With Bromley Symphony he celebrated Forty Years as Music Director.
Adrian Brown was one of a hundred musicians presented with a prestigious Classic FM Award at their Tenth Birthday Honours Celebration in June 2002. In the summer of 2013 he was awarded the 'Making Music' NFMS Lady Hilary Groves Prize for services to Community Music, a much appreciated and admired honour.
In December 2017 Adrian was presented with the Berlioz International Society Medal for services to the great French composer.
In October 2019 at the time of his 70th birthday, he was awarded the Elgar Medal.
In the past year the Elgar Sinfonia has gone from strength to strength, giving two concerts in London in spite of the pandemic. Elgar's 'Falstaff' in June 2021 and in October the Orchestra celebrated the Elgar Society 50th anniversary with a concert including 'Sea Pictures', 'Polonia' and the 'Crown of India' in the presence of Dame Janet Baker.
Future plans include a cycle of the Elgar Symphonies and a performance of the Missa Solemnis of Beethoven with the London Chorus and the Royal Orchestral Society. With that orchestra he will conduct their 150th Anniversary Concert in 2023.