Season tickets
We are now opening season ticket booking for the coming season, and invite you to renew your season ticket. We are planning on 4 performances in November, January, March and May and will again be offering season ticket holders all 4 concerts for the price of 3. Where possible we give existing season ticket holders the option to keep the same seats.
Please submit the form below as soon as possible if you wish to reserve your preferred seats. E-tickets and a request for payment will follow.
We do hope you will renew your season ticket, and look forward to welcoming you to the first concert of the next season.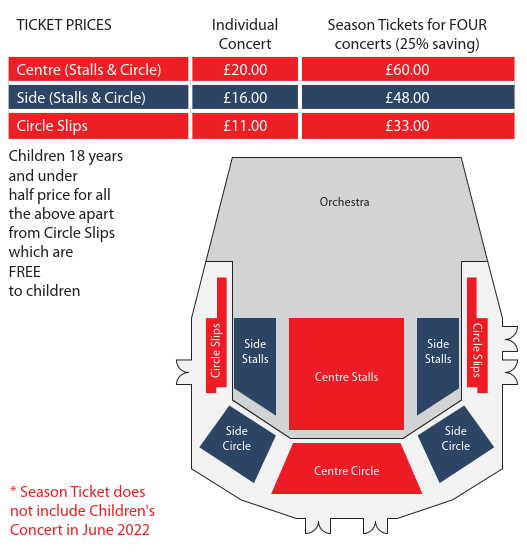 Individual concerts
Tickets for individual concerts are normally available after season ticket allocation is complete in mid September. When concerts are confirmed they will appear here and may be booked and paid for as follows:
Click the blue BOOK NOW button next to your desired concert at the bottom of this page. You should be taken to a page showing a seat plan. If you can't see your concert, tickets are not yet on public sale or may only be available at the door. You can use our contact page to email us if in doubt.
Click the seat areas and select the quantities you desire, then click the blue "next" button at the bottom right.
You can then choose your individual seats by clicking them in the seat plan. Seats will turn orange when reserved. Keep clicking until all your seats have been chosen, then click the orange "next" button at the bottom right.
To add more seats for a different area or concert, click the orange "continue shopping" button at the bottom right, otherwise tick the box at the bottom left to confirm that you accept the terms and conditions, then click the "checkout" button, enter your payment details and click "buy tickets".
We will immediately send you an email confirming your reservation. This is your ticket – please print it out or show it on your phone at the door. Check your "spam" or "junk" folder if you don't see this.
In case of difficulty, please use our contact page to email us.
Note that if payment is not completed within 20 minutes, reserved seats are automatically released for sale again.
Tickets are also available at the door from 30 minutes before the concert, paid for by cash, debit/credit card or cheque. All reserved seats on the ticket plan have good visibility and acoustics. We usually get a few returns and there are also a limited number of unreserved seats (one row of seating at very back of the hall with restricted visibility) available for sale on the night.