At our May 2011 concert we distributed this survey (and a promotional pen) to everyone in the audience. We received 167 completed returns, containing many excellent suggestions for future programmes and improvements, including offers to help in various ways. Many thanks to everyone who participated!
The results are summarised below.

Responses shown in red
1. How did you first hear about tonight's concert?
39% Previous programme 4% Reminder letter 6% Email list 2% Website
26% Orchestra member 7% Brochure/Banner 16% Friend 1% Press
Details/Other..Season ticket holder, poster at library, steward
2. Do you know someone in the orchestra?
35% No 36% Friend 24% Relative 4% Neighbour 2% Colleague
Details/Other…Friend of friend, ex-teacher, other groups
3. Are you likely to come to our next concert on 12th November 2011?
99% Yes, probably 1% No, not interested 1% No, can't 0% No, too expensive
Details/Other…Definitely, depends on programme, depends on babysitter availability, not sure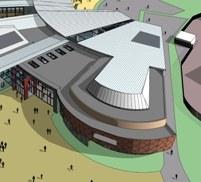 We are considering making a move in November 2012 to a brand new, purpose-built 500-seat concert hall with parking, – Bromley's first – currently being constructed about two miles west of here at Langley Park School for Boys.
4. Would you be more or less likely to attend our concerts there than here?
21% More likely 10% Less likely 70% About the same
Comments…Hopefully accessible by bus, if there is a train station nearby, depends on disabled access, would attend anyway, so long as parking available, rather depends on the acoustics, a tiered venue would be wonderful, it's further to go, will be sorry to leave this school
5. Is there a particular composition or type of music you would like us to perform?
Vaughan Williams, Phillip Glass, Bach, Mozart, Mahler, Prokofiev, Britten, Walton, Wagner, Sarasate, Saint-Saëns, Gershwin, Debussy, Ravel, Delius, Strauss, Shostakovich, Beethoven, Chopin, Elgar, Borodin, Schoenberg, Webern, Berg, Finzi, John Williams, film music, jazz, concertos, English, Russian, French, choral, classical, 20th C, baroque, variety, more of the same, something calming, children's concert
6. What could we change so you would recommend us to more of your friends?
Less talk more music, comfortable seats, more publicity, week night/daytime concerts, no change
7. Did you buy a programme tonight?
85% Yes 5% No, not interested 4% No, too expensive 6% Didn't see one
Comments…Very informative
8. Did you buy an interval drink tonight?
64% Yes 34% No, not interested 1% No, too expensive 1% Didn't know I could
Comments…Long queue, we miss the hot drinks
9. Did you attend our free summer workshop last year (there will be none in 2011)?
7% Yes 20% No, not interested 40% No, couldn't 33% Didn't know about it
Comments…Would like to hear the rehearsal as well, would like to know more
10. Would you like to be more involved with the orchestra, e.g. by helping with administration, publicity or concerts?
93% No 7% Yes, my contact details are below
11. Would you like to receive email reminders before each concert?
62% No 16% Yes, my email address is below 21% I already do
12. Would you like to be added to the postal mailing list?
The postal mailing list provides the earliest opportunity to receive the new season's brochure in late July/early August for booking seats. By the end of August more than half the hall, the best seats, have been booked for the whole season.
38% No 15% Yes, my address is below 46% I'm already on it
13. Approximately when did you start coming to our concerts?
Year…45% <= 5 years ago, 16% 6-10 years, 21% 11-19 years, 19% > 20 years, earliest 1946
---
At our November 2005 concert we distributed this survey (and a promotional pen) to everyone in the audience. We received 174 completed returns.
Responses shown in red
We are asking for your opinion about our concerts and any improvements we could make, to help us balance our limited resources. We want to keep performing challenging and interesting programmes without raising prices if we can.
Are we too loud?
1. What do you think of our recent programmes (choice of music) in general?
[70%] a) Great, just keep it coming
[ 1%] b) A bit boring, I've heard most of it before, needs more variety
[17%] c) A bit too avant-garde, I'd prefer more familiar pieces
[14%] d) I'd prefer more concertos and smaller works with soloists
[32%] e) I like large works with a full symphony orchestra
[ 3%] f) Concerts are sometimes too long for me
[ 5%] g) Longer concerts with an occasional encore would add value
[25%] h) OK, but why don't you ever perform the following: (See a selection below)
2. Do you feel our concerts have educational value?
[80%] a) Yes – I especially like Adrian Brown's spoken introductions
[57%] b) Yes – I usually buy a programme to help me understand what I'm hearing
[ 8%] c) I would pay more than the usual £1 for a larger programme with more detailed notes
[ 7%] d) Too much! Just give me music
3. The last time you missed one of our concerts, what were the main reasons for your absence?
[67%] a) I couldn't come because of other commitments
[ 5%] b) I didn't like the programme enough
[ 7%] c) I didn't know about it or forgot
4. How did you first hear about us?
[10%] a) I can't remember
[60%] b) I knew one of the performers
[16%] c) Other word of mouth
[ 0%] d) I found you on the internet
[ 4%] e) From a newspaper
[ 0%] f) On the radio
[ 6%] g) From a BSO brochure or leaflet
Who/where? (49% responded)
5. How do our concert times suit you?
[ 8%] a) It's often a rush to get there, an 8pm start would be better
[ 8%] b) Concerts often finish too late for me, I would prefer them to be shorter or start earlier
[ 3%] c) I often can't get there on Saturdays, I would prefer Sunday concerts
[ 2%] d) I don't like going out late, matinées would be better
[ 5%] e) Three concerts a year would be enough
[36%] f) An extra summer concert would be nice
(45% no response or happy with current times)
6. How could we improve the Ravensbourne Hall facilities?
[53%] a) It's fine – the best concert hall in Bromley
[25%] b) Include refreshments in the ticket price to reduce the interval queue
[13%] c) I find it hard to hear Adrian's introductions
[ 7%] d) It's often too hot
[ 1%] e) It's often too cold
[ 3%] f) I would pay (lots) more for better seating
[ 2%] g) I'm willing to donate the cost of a full pipe organ
[22%] h) Other more practical suggestions (See a selection below)
7. Are our ticket prices reasonable?
[33%] a) Yes indeed, you could reasonably charge a bit more if you had to
[63%] b) Yes, so leave them as they are
[ 0%] c) They're too high, please reduce them even if this restricts programme choice a bit
8. Might we be able to persuade you to…
[ 1%] a) Become our new Concert Manager (our current one is leaving after this concert)?
[ 0%] b) Help as a concert steward, programme seller or with refreshments (and get a free ticket)?
[ 1%] c) Help us between concerts with programmes or publicity?
[ 1%] d) Help us find additional funding or sponsorship?
[ 6%] e) Make a donation as a Patron?
[ 2%] f) Remember us in your will?
[ 2%] g) Join as a playing member? Instrument
Thanks for taking the time to complete this survey! Please keep the pen, with our compliments. Results will be posted on our web site soon. Please add your contact details or comments below if you wish. Anonymous returns are fine.
(24% gave a name, 17% an address, 33% left comments, see a selection below)
[
4%
] Please add me to your mailing list
Some of the typical programme suggestions in 2005 (from question 1 h)
British music and artists should be featured more often…Moeran, Finzi, Bax, Ireland, Stanford, Leighton, Rubbra, Howells, Vaughan-Williams, Tippett, Walton, Elgar, Arnold…

Let's have some music from shows and films…Jerry Goldsmith, John Williams, Basil Poledouns, Ron Goodwin, John Barry, Bernstein, Walton…

Sometimes a bit heavy…more familiar pieces

More: Mahler, Brahms, Bruch, Schubert, Wagner, Bruckner, Dvořak, Elgar, Beethoven, Schumann, Mendelssohn, Sibelius, Tchaikovsky, Stravinsky, Shostakovich, Gliève, Fauré, Strauss, Bach, Delius, Debussy, Gershwin, Prokofiev, Janáček, Smetana, Orff, Rachmaninov, ballet music, American composers, early music, overtures…

A profile on orchestra members
Some suggestions for improvements at the venue (from question 6 h)
Someone to manage car parking would be helpful…Could you possibly reserve a few spaces for the disabled near the entrance of the HALL?

Hard to hear Adrian in the gallery…Could use a mike…Can't be heard from the back seats…

Not easy to see the soloists and orchestra from the back but sound is good…The existing seating is comfortable – no need for change…The seats are a bit hard…As it's a school you won't get better seating…

Please start on time…Interval sometimes too long…Reduce interval queue…Coffee sometimes too hot to drink before being recalled…

Could you have a word with the school about their toilet facilities – please!
A representative selection of general comments at the end of the survey
Thanks for introducing to music I would not consider. Does encourage you to broaden your horizons…Your concerts are excellent. They show more innovation than many professional concerts…I always keep an eye on your programmes as they contain such interesting music…admirable adventure and ambition…The concert programme is usually a good mix of well known and lesser known works and a good variety of styles.

More popular works occasionally might bring in the punters…some of the works chosen recently have been overly difficult for both orchestra and audience alike… I like to learn new works, but I know a friend who comes only when the items are familiar!…You are never going to please everybody in your choice of composers…I would like one familiar piece in each concert.

The programme notes are very helpful, as are Adrian Brown's introductions…Adrian Brown is fantastic – I love his introductions…Adrian's introductions often too long…tends to repeat the programme notes…Very much enjoy Adrian's intro's – breaks down barriers between orchestra and audience.

A CD or even better a video to sell of highlights of the year would be a way to make some funds

Many congratulations on the high standard of playing…The Mahler this evening was superb…If someone told me you were the best amateur orchestra in the country, I would believe it!…We never miss a concert unless we're very very ill!…It's a real joy to come and listen to a superb orchestra with a knowledgable, enthusiastic and charismatic conductor…The orchestra just gets better and better – we so look forward to the season…Bromley should be extremely proud of its Symphony Orchestra.