Phil has been a member since 1998. He started learning the violin in Australia at age 8 and still has lessons occasionally. He played in amateur chamber groups, pit orchestras and theatrical productions in Australia before moving to the UK in 1985. Here he has been a regular member of orchestras in Huntingdon, Basingstoke, Kingsclere, Reading, Guildford, London, Leatherhead, Hayes and Bromley, as well as smaller ad-hoc groups accompanying choirs or musicals and at weddings. They sometimes pay a modest (amateur) fee but Phil earns a living as a professional electrical engineer and software developer and music is just a hobby.
He also plays piano (rarely in public) but finds the violin particularly rewarding because there is more control over sound character, and because of the social aspect of orchestral playing. Violins often get the main melody and rarely sit silent, counting bars. Also, most orchestras have vacancies for string playersd.  There are many amateur orchestras around here – nearly 200 in Greater London alone – and it would be possible to play in concerts almost every weekend.
Phil's violin is probably 19th century German and previously belonged to his father. His bow is much more modern and was made recently by a local craftsman.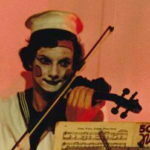 Some memorable events over the years have included seeing a conductor step backwards off the stage and a cellist falling off the stage onto his cello, being hit by flying conductor's batons, struggling to play in cold and windy conditions, in cramped orchestra pits and by candlelight, playing in costume and makeup on stage, a couple of TV appearances and of course lots of embarrassing mistakes. His other hobbies include maintaining the orchestra's website and designing and operating lighting and sound for theatrical productions, most recently at the Barn Theatre in Oxted. There are more details and pictures on his website at www.mckerracher.net.