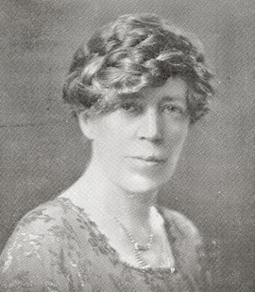 Our 2018/2019 season is the Orchestra's hundredth! Our co-founder Gwynne Kimpton (pictured) pioneered concerts for children and founded the British Women's Orchestra in 1924. She worked with various amateur groups too, including here in Bromley where she was a teacher (with her co-founder Beatrice Fowle) at Bromley High School for Girls.
It seems that Bromley Orchestral Concerts (also known as the Bromley and Chislehurst Orchestra) emerged from a series of patriotic concerts given during the First World War. The strings were local amateurs, the woodwind and brass from London professional orchestras. Those early days saw regular visits by leading conductors and soloists of the time – including Sir Adrian Boult, Sir Henry Wood, Isobel Baillie and Jelly d'Aranyi. WH ("Billy") Reed, friend of Elgar and former leader of the LSO, conducted regularly until the 1940s and dedicated his String Symphony to the Orchestra.
Marjorie Whyte (one of the four musical sisters who lived at Ripley, now the Arts Centre) was leader of the orchestra from the 1930s until her death in 1963. Her sisters Dorothy, Jessie and Joyce led the string sections. Boult wrote a moving tribute to her work in a letter to The Times in August 1963. Marjorie also conducted the Ripley Choir and there were joint concerts until 1972 when the choir was dissolved.
We have a comprehensive archive of programmes from 1960 when our longest-serving member, Claire Dillon, first started selling programmes (before joining the violin section a few years later). But we are very keen to know more about our past. Perhaps you have connections to a former player or have fond memories of a particular performance or soloist. Do you remember Ralph Holmes playing the Brahms Violin Concerto in 1980 (or even 1966!), or Alan Civil's Strauss Horn Concerto in 1970, or the Berlioz Requiem in a Biggin Hill hangar in 1990? Perhaps you can even fill in some of the blanks before 1960 with programmes or reviews.
So do get in touch with your reminiscences and memories of the Orchestra's past.
Please use our contact form or speak to any member of the Orchestra.
Thank you: we look forward to hearing from you!