Guest conductor Mark Fitz-Gerald

Schumann Konzertstück for 4 Horns
Soloists Gillian Jones, Oliver Tunstall, Mary Banks & Roy Banks
Schumann composed this showpiece exploiting the capabilities of the recently introduced valved horn while he was living in Dresden in 1849. It demands extraordinary virtuosity and stamina from our 'home' team of soloists.

Janacek Taras Bulba
Janacek composed many of his finest and most original works when he was over the age of sixty. This portrayal of Gogol's story of the Ukranian Cossack partisan's campaign against the Poles is perhaps influenced by the Czech strive for independence during the first world war. Organ and bells augment the normal full orchestra.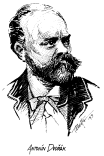 Dvorak Symphony No. 5
Although less often performed than the later symphonies, the F-Major symphony, first performed in 1879, has all their tunefulness and ebullience.
Guest conductor Mark Fitz-Gerald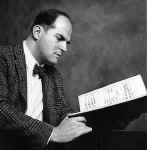 Mark Fitz-Gerald completed his studies at the Royal College of Music in 1977, where his professors included Norman Del Mar and where he won all the major prizes for both orchestral and operatic conducting. From 1983 to 1987 he was Artistic Director of the RIAS Jugendorchester (West Berlin ) where his innovative Filmharmonic Concerts received much acclaim and were later made available on CD. He returned there to continue the series with the Berlin Rundfunkorchester in 1992.
Background picture: Brno station, towards the end of Janacek's life. Page design David Young.