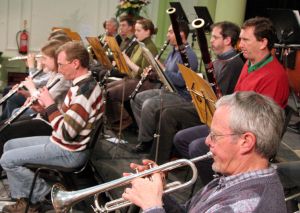 We collect a subscription from members who regularly attend rehearsals. The annual fee for 2023/24 is £160, due at your first rehearsal. In cases of hardship or exceptional circumstances, please consult the chair, Mike Ibbott. To encourage prompt payment, the rate for overdue subscriptions increases by £5 after each concert.
Please use direct bank transfers if possible
The recommended way to pay (no paperwork or fees) is to transfer this amount directly from your bank account to ours by direct transfer or standing order, either online or at any bank branch. Please pay:
Bromley Symphony Orchestra

Account

30183792

Sort code

40-15-05
You may also pay by cheque, payable to Bromley Symphony Orchestra, and hand it to the treasurer, Peter Bruce, at a rehearsal or post it to 30 Hilldown Road, Bromley BR2 7HX.
To pay a full subscription by credit/debit card, click the Subscribe button (but note that the orchestra is charged a fee for this). For other amounts use the Donate button below instead.
Gift Aid
If the person who pays your subscription is a UK taxpayer, we request that you complete a Gift Aid declaration (you can use the "New member" form) and keep us informed of any changes in your tax status or address. Check with the treasurer if you're not sure whether you have already completed one.
Additional donations from members who also wish to be patrons are of course very welcome and can be made using the Donate button below. We suggest a minimum of £25 for individuals or £40 for couples. Please include your name as you wish it to appear on programmes in the "Reference" field.