These pages contain programmes and recordings of most of our recent performances. In addition, a list of every piece we have performed since 1960 is on the repertoire page and a history of the orchestra is on the about page.
Many of the sound recordings in this archive were recorded by students on the Tonmeister course at the University of Surrey, for which we are very grateful. Note that explicit approval is required for any photography or recordings, since we must have the consent of everyone involved and pay any extra fees incurred.
Click the programme covers to download the complete programme in PDF format. You can use a browser plugin such as Video & Audio Downloader to download audio and video recordings (start playing the recording to make it appear in the list).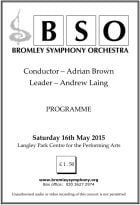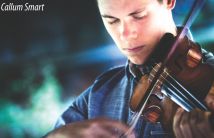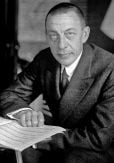 Humperdinck Prelude 'Hänsel und Gretel' 

Strauss Serenade for Thirteen Wind Instruments in E flat 

Glazunov Violin concerto in A minor 


    Soloist Callum Smart
This concert consists of four brief and delightfully contrasting works. Humperdinck's tuneful overture to Hansel and Gretel gives way to Richard Strauss' charming chamber serenade for thirteen wind instruments and Glazunov's scintillating violin concerto (starring previous Young Musician of the Year violin winner Callum Smart). Rachmaninov's Symphonic Dances (a very late work) winds up the evening in sardonic, sensual style.
Mahler Symphony No. 7 

Not to be missed is our third concert, comprising Mahler's stunning Seventh Symphony, written at the height of his success as conductor and composer, and exemplifying his famous quotation: 'A symphony must be like the world; it must contain everything.' The seventh is rightly reckoned rather enigmatic, but contains, after a funeral march, the exquisite 'night music' movements and a demented waltz of a scherzo, an exultant climax.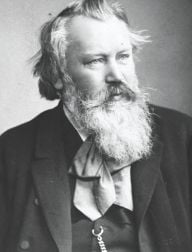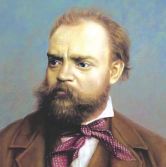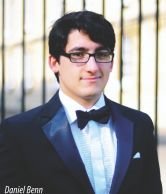 Dvořák Cello Concerto in B minor 


    Soloist Daniel Benn
Raine Memories of a Dream
Brahms Symphony No. 3 in F major
Nineteenth-century Romanticism is hugely to the fore for our second concert, kicking off with the Dvořák, the world's best-known and best-loved cello concerto, performed by the gifted young soloist Daniel Benn in memory of his grandfather, Tony Benn. After the interval the orchestra performs Brahms's Third Symphony, a masterpiece written in a mere four months, of which Clara Schumann wrote to Brahms on February 11, 1884: 'All the movements seem to be of one piece, one beat of the heart.'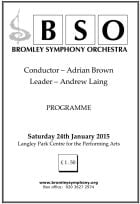 Dvořák Cello Concerto – Allegro
Dvořák Cello Concerto – Adagio
Dvořák Cello Concerto – Finale
Jonathan Raine: Memories of a Dream
Brahms: Symphony No. 3
Introduction by Adrian Brown
Allegro con brio
Andante
Poco allegretto
Allegro – Un poco sostenuto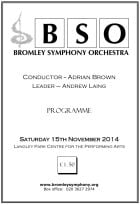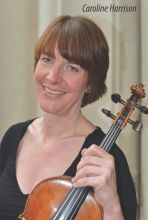 Walton Overture "Portsmouth Point" 

Walton Concerto for Viola and Orchestra 


Soloist Caroline Harrison
Elgar Symphony No. 1 in A-flat major 

Our opening concert showcases outstanding British composition. From the light, jazzy Portsmouth Point, with its swaggering brass and pointed off-beats, to Walton's resonant, lyrical and eloquently full-throated viola concerto, featuring Caroline Harrison, principal viola of the BBC Symphony Orchestra, the concert winds up with Elgar's immortal First Symphony, of which its first conductor, Hans Richter said to his orchestra, 'Let us rehearse the greatest symphony in modern times.'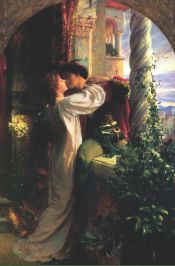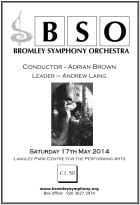 Berlioz Three movements from the Dramatic Symphony "Roméo et Juliette" 


Romeo Alone and Capulet's Ball, Love Scene, Queen Mab Scherzo
Bernstein Symphonic Dances from West Side Story 

Tchaikovsky Romeo and Juliet Overture 

We end our season with three very different works depicting Shakespeare's Romeo and Juliet. Tchaikovsky's sublime fantasy overture weaves the main themes of the story into twenty minutes of orchestral perfection. In West Side Story, Leonard Bernstein transplants the two doomed lovers to jazzy 1950's New York. His Symphonic Dances leave the listener breathless as they are shamelessly bombarded with many of the twentieth century's best tunes, including 'Maria', 'America' and 'Cool.' Berlioz was equally inspired, especially by his wife-to-be's performance as Shakespeare's Juliet. His 'take' on the work is bursting with harmonic imagination, fervent power, eloquent emotion and frustrated desire.
Berlioz: Roméo et Juliette

Bernstein: West Side Story

Tchaikovsky: Romeo and Juliette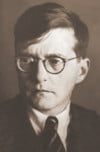 Shostakovich Symphony No. 6 
Mussorgsky Pictures at an Exhibition 
Shostakovich's 6th symphony, conceived in the 1930s, is a very personal work, reflecting not only the suffocating oppression of the Stalinist era but also the resilient spirit of the composer, with the power of the first movement balanced by the defiant and even riotous flair of the following two. Mussorgsky's famous Pictures at an Exhibition was composed within a single month for piano, and has never slipped from orchestral repertoire since Ravel (among others) arranged it and it is Ravel's orchestration we will be playing. Listen to the spooky 'Catacombs', enjoy the gossip from 'The Market of Limoges' and thrill to the grandeur of the final 'Great Gate of Kiev.'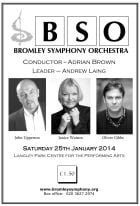 Haydn Symphony No. 103 "Drumroll"
Wagner Die Walküre, Act 1
Soloists Janice Watson, John Upperton and Oliver Gibbs
If you think you know Haydn, come and hear Symphony No. 103 ('The Drumroll'), one of the famous late symphonies composed when Haydn was the toast of London. Symphony No. 103 is one of his most interesting, being packed with originality, pathos and wit. Following this, we are extraordinarily fortunate to be joined by internationally-known singers Janice Watson, John Upperton and Oliver Gibbs to perform Act 1 of Die Walküre, the second part of Wagner's famous 'Ring' cycle. Controversially, some of us think that this is the most enjoyable way of playing Wagner. See what you think!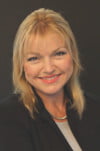 Janice Watson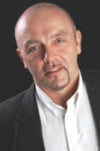 John Upperton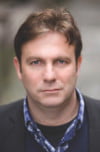 Oliver Gibbs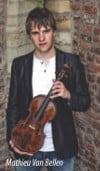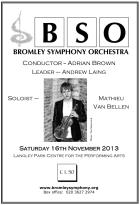 Wagner Die Meistersinger von Nürnberg, Overture (Prelude to Act 1) 

Britten Violin Concerto 


    Soloist Mathieu van Bellen
Wagner Die Meistersinger von Nürnberg, Act 3 Prelude
Beethoven Symphony No. 7 

Beethoven described his seventh symphony as 'one of my best', a view shared by audiences who demanded an encore of the second movement on its début performance. Wagner famously described it as 'the apotheosis of the dance.' Young Dutch virtuoso Mathieu van Bellen assists us to mark the centenary of the birth of Benjamin Britten with a performance of his violin concerto, which was inspired by Beethoven's. Here economy of material is illuminated by virtuosic violin writing and scintillating use of orchestral tone colour. The brilliant overture to Die Meistersinger von Nürnberg delivers the complete opera in miniature; all the main themes are there. We add the atmospheric prelude to Act 3 to launch a season celebrating the 200th anniversary of Wagner's birth. 
 

Piotr Tchaikovsky
Khachaturian Violin concerto


    Soloist Bernard Brook 
Tchaikovsky Symphony No. 6 (Pathétique)

The final concert of our season opens with the brilliant Festive Overture, a vivacious musical firework. Khachaturian's concerto is a magnificent whirlwind of powerful emotions and unbridled energy. The Pathétique is a complex mixture of emotions – sorrow, hope, and happiness tinged with a foreboding of despair – a mixture that has ensured its enduring popular appeal.

Anton Bruckner
The Eighth Symphony is a monumental work, full of the composer's characteristic 'trade marks' but taking them further than ever before: a mysterious opening, dramatic climaxes and contrasts, a lively dancing scherzo, a heartfelt slow movement – he believed it was his best one – and finally a very powerful finale which brings it all together in a glorious blaze of triumph.
Allegro moderato
Scherzo. Allegro moderato – Trio, langsam
Adagio. Feierlich langsam, doch nicht schleppend
Finale. Fierlich, nicht schnell