These pages contain programmes and recordings of most of our recent performances. In addition, a list of every piece we have performed since 1960 is on the repertoire page and a history of the orchestra is on the about page.
Many of the sound recordings in this archive were recorded by students on the Tonmeister course at the University of Surrey, for which we are very grateful. Note that explicit approval is required for any photography or recordings, since we must have the consent of everyone involved and pay any extra fees incurred.
Click the programme covers to download the complete programme in PDF format. You can use a browser plugin such as Video & Audio Downloader to download audio and video recordings (start playing the recording to make it appear in the list).

Antonin Dvořák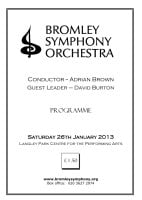 Suk Fairy Tales

Mahler Rückert Lieder


    Baritone Laurence Meikle
Dvořák Symphony No. 7

Suk's Fairy Tale is a colourful suite of four movements drawn from music he wrote for a theatre piece. Mahler's set of five songs, based on poems by Friedrich Rückert, share a mood of intimacy and quiet withdrawal. The Seventh Symphony, dramatic and darkly passionate and expressing the defiance of the underdog, is perhaps Dvořák's greatest.
Concert dedicated to the memory of Malcolm Smith

Sir Edward Elgar
Elgar Cello concerto


    Soloist Jamie Walton
Vaughan Williams Symphony No. 2 (London)

Bax's best known work paints a vivid picture of the Cornish castle of Tintagel, battered by the Atlantic on a sunny day. Elgar's wonderful concerto, contemplative and elegiac, has become a much loved cornerstone of the cello repertoire. The symphony depicts various London scenes, including the Westminster chimes, hansom cabs, street sellers' cries, and the moods and tempos of our capital city.
Bax: Tintagel (Note: Closed captions are available by clicking "CC")

Elgar – Cello Concerto

Vaughan Williams


Hans Rott
Our Summer Workshop is an occasion when the orchestra spends a day rehearsing an interesting work then gives an early evening informal performance which audiences may attend at no charge, although a collection is made to help cover our costs. The rehearsal is open to non-member players (who should apply beforehand) and spectators, including (silent) children.
The work to be studied this year is the Symphony in E by Hans Rott,

a composer few people have encountered. He was a brilliant fellow student with Mahler, but sadly went mad and died at the age of 25. Mahler greatly admired this symphony, and his own symphonies, the first of which was written 8 years after Rott's, show very strong influences. Anyone who appreciates Mahler's music will enjoy this.
11:00 – 12.00 Strings only rehearsal
12:00 – 13:00 Full orchestra rehearsal
13.00 – 14.00 Lunch (Please bring your own picnic lunch – weather permitting, lunch can be eaten outside)
14.00 – 15.30 Rehearsal
15.30 – 16.00 Break
16.00 – 17.30 Rehearsal
17.30 – 18:00 Break
18:00 – 18.15 Introductory talk to audience with possible extracts
18.15 – 19.15 Performance

Johannes Brahms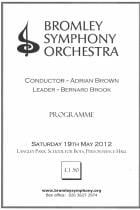 Rossini Overture 'William Tell' 

Walton Two pieces from 'Henry V'  

Strauss Horn Concerto No. 2 
    Soloist Richard Watkins
Massenet Méditation from Thaïs
    Soloist Bernard Brook
Brahms Symphony No. 4 

Rossini's overture is very well known, not least for its galloping finale which became the 'Lone Ranger' theme music. Music for strings from Walton's 'Henry V' film music calms things down. Strauss's love for the horn shines though all his orchestral works, and particularly in this late concerto which needs a real virtuoso soloist. We conclude our season with this wonderful symphony, which has been a mainstay of the orchestral repertoire ever since it was written.
Rossini: Overture 'William Tell'
Introduction

Overture

Walton: Two pieces from 'Henry V'
Introduction

Henry V Suite 2 – Passacaglia: The Death of Falstaff

Henry V Suite 4 – Touch her soft lips and part

Richard Strauss: Horn Concerto No. 2
Introduction

Allegro

Andante con moto

Rondo (Allegro molto)

Massenet: Méditation from Thaïs
Introduction

Méditation

Bernard Brook tribute

Brahms: Symphony No. 4
Introduction

Allegro Non Troppo

Andante Moderato

Allegro Giocoso – Poco Meno Presto

Allegro Energico e Passionato – Più Allegro


Ludwig van Beethoven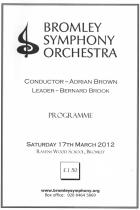 Borodin Overture and Polovtsian Dances from 'Prince Igor'

Beethoven Piano Concerto No 5 'The Emperor'


    Soloist Masa Tayama
Bartók Concerto for Orchestra

Borodin's wonderful music is very widely known, much of it having been adapted for use in lighter and popular genres, notably in the musical 'Kismet'. For Beethoven's most well loved piano concerto, we are delighted to welcome back Masa, whose previous appearances with us met with such enormous acclaim. Bartók certainly puts the various sections of the orchestra through their paces in his showpiece concerto, a true 20th Century classic.
Hector Berlioz
Elgar 'Sospiri'

Arnold Clarinet Concerto No. 2


    Soloist Hale Hambleton
Berlioz 'Symphonie Fantastique'
For 2012, the Queen's Diamond Jubilee year, we open with Walton's 1937 coronation march. The poignant 'Sospiri' (sighs) cools the mood, ready to be revived by Arnold's jazzy concerto, originally written for Benny Goodman. In 1830 Berlioz took the musical world into new realms with his vivid picture of passionate but unrequited love that eventually turns into a wild nightmare.

Franz Liszt

Elgar 'Pomp & Circumstance March No. 4′ 

Liszt Symphonic Poem 'Tasso' 

Elgar 'Violin Concerto' 
Soloist Sasha Rozhdestvensky

We celebrate Liszt's 2011 bicentenary with one of his great tone poems. Barber's well-loved Adagio was originally part of his second string quartet. But we begin and end with Elgar. This march is less familiar than the famous No 1, but no less memorable. The Violin Concerto, premiered in 1910, gained immediate popularity and has remained a firm favourite on concert programmes ever since.

Jean Sibelius

Schubert 'Symphony No. 8' (Unfinished)

Paul Creston 'Marimba Concertino'
Soloist Alexander Main-Ian

Sibelius 'Symphony No.2′ 

This Schubert symphony has remained one of the most well loved in the concert repertoire in what seems a perfect unfinished state, though others have tried to complete it. Creston's Concertino is distinctly tonal in the modern American idiom and possessed of a strong rhythmic sense. Sibelius's Second is by far the most popular of his symphonies. Its style is characteristic Sibelius, with marvellous dark-hued sonorities, expansive brass chorales, passionate expressiveness, and at the end, with screwed up tension leading to a glorious triumphant conclusion.

Carl Nielsen
Walton 'Spitfire Prelude and Fugue'

Sibelius 'Violin Concerto'
    Soloist Anna-Liisa Bezrodny

Nielsen 'Symphony No.5' 

The opening item comes from Walton's music written for the 1942 film 'The First of the Few'. Sibelius's only concerto, in turn stormy and tense, quiet and lyrical, and with a dazzling dancing finale, demands forceful dramatic playing from the soloist. Nielsen's Fifth, widely regarded as his greatest masterpiece, portrays conflict with disturbing but exhilarating power: the contrast between darkness and light, ominous militarism and peace, evil and good, which eventually leads to an affirmative conclusion.

Igor Stravinsky
Rimsky-Korsakov 'Capriccio Espagnol'

Richard Strauss 'Oboe Concerto' 
    Soloist Caroline Marwood

Stravinsky 'Petrushka' 

Rimsky-Korsakov's Capriccio Espagnol captures the warmth and exuberance of Spain in brilliant technicolour, a free rhapsody based on folksong tunes. The Strauss concerto uses only a small orchestra and provides a wonderful showcase for our principal oboist. Stravinsky's charming ballet depicts the colourful atmosphere of the Shrovetide Fair and draws on Russian folk melodies to tell the story of a puppet unsuccessful in love.