These pages contain programmes and recordings of most of our recent performances. In addition, a list of every piece we have performed since 1960 is on the repertoire page and a history of the orchestra is on the about page.
Many of the sound recordings in this archive were recorded by students on the Tonmeister course at the University of Surrey, for which we are very grateful. Note that explicit approval is required for any photography or recordings, since we must have the consent of everyone involved and pay any extra fees incurred.
Click the programme covers to download the complete programme in PDF format. You can use a browser plugin such as Video & Audio Downloader to download audio and video recordings (start playing the recording to make it appear in the list).
Smetana Overture: 'The Bartered Bride' 

Tchaikovsky Violin Concerto 


    Soloist Anna-Liisa Bezrodny
Shostakovich Symphony No. 15 

Smetana's Bartered Bride overture is sheer orchestral effervescence – with a Slavic twist. Tchaikovsky's eloquent violin concerto features prizewinning violinist Anna-Liisa Bezrodny on her Amati violin. The second half consists of one of Shostakovich's quirky masterpieces, his 15th symphony. Side-swiped excerpts from William Tell in the first movement, evocative violin and cello solos and ghostly brass chorales in the second, plus a sardonic scherzo, are superseded by a finale echoing some of the most stirring moments from Wagner's Ring and a sense of utter completion.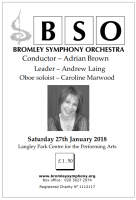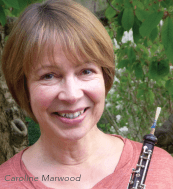 Nielsen Symphony No.3 


    Soloists Nicola Ihnatowicz and Oskar McCarthy 
Vaughan Williams Oboe Concerto 


    Soloist Caroline Marwood
Strauss Suite from 'Der Rosenkavalier' 

Nielsen's 3rd Symphony (the 'Espansiva') is light and joyous – not 'typical' Nielsen at all. Its famous slow movement, which Nielsen himself described as a 'landscape Andante,' uses offstage solo voices to marvellous effect. Vaughan Williams then provides a virtuoso showpiece for principal oboist Caroline Marwood. A folk music-inspired pastorale is followed by a delicate minuet, while the finale is almost a perpetuum mobile – interrupted by some stunningly lyrical passages.  The Rosenkavalier suite excerpts moments of Strauss' greatest masterpiece, including the 'Presentation of the Rose' scene, and the most richly textured of the opera's several waltzes. It concludes with the powerful trio for the Marschallin, Octavian and Sophie – and by the languorous final duet. Not to be missed!
Casals arr Brown 'Song of the Birds' 


    Soloist Alice McVeigh
Debussy 'Ibéria' from 'Images' 

De Falla 'Nights in the Garden of Spain' 


    Soloist Catherine Borner
Sexy, sassy and Latin American, Márquez's Danzón No. 2 is followed by a Spanish folk miniature for solo cello and orchestra. Then we get into the meat of the concert. Debussy's 'Ibéria' – impressionistic and evocative – reminds us of his comment: 'Music is as boundless as the elements, the wind, the sky, the sea… ' De Falla himself acknowledged Debussy's achievement: 'the intoxicating spell of Andalusian nights, the joyous strains of guitars and bandurrias, whirls in the air!' De Falla's own Nights in the Gardens of Spain follows ('the most tragic and sorrowful of his works, expressing an intimate and passionate drama.') Catherine Borner's piano solos are woven within a flamboyant orchestral texture. We conclude with Ravel's iconic Boléro – by far his most famous work.(At its premiere, a woman furiously objected that Ravel must be mad. Ravel's comment? 'She has understood the piece!') A barn-storming finale!
A good quality video of this concert exists (all 5 pieces, no announcements, 74 minutes approx), recorded in high definition using three cameras and edited by Chris Beston. DVDs (standard definition, £8) and Blu-ray discs (high definition, £12) are for sale in the foyer on concert days or can be ordered through our contact page.
Márquez – Danzón No.2
Casals – Song of the Birds
Debussy – Ibéria
De Falla – Nights in the Garden of Spain
Ravel – Boléro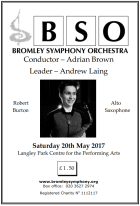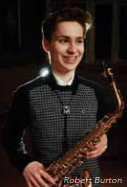 Dukas: 'La Péri', Fanfare et Poème dansé

Debussy: Rapsodie pour orchestre et saxophone


Soloist Robert Burton
Brahms: Symphony No. 2, Op. 73
Dukas suggested that his La Péri should evoke 'translucent, dazzling enamel' with hints of Persia. Debussy's Spanish-inspired Rhapsody for saxophone and orchestra is followed by Brahms' radiantly sunny, transcendently lyrical Second Symphony. See you there!
Schumann: Symphony No. 2, Op. 61 

Mahler: Das Lied von der Erde 


    Soloists Janice Watson and John Upperton 
Schumann's affirmatory Second Symphony precedes Mahler's orient-inspired masterpiece, in which international artists Janice Watson and John Upperton take us on a journey from heroic energy through autumnal lament to a gloriously existential farewell.





















Ireland: A London Overture 

Rachmaninov: Piano Concerto No. 3, Op. 30 


    Soloist Masa Tayama
Bliss: A Colour Symphony 

Ireland's vibrant London Overture is coupled with Rachmaninov's rhapsodic and virtuosic Third Piano Concerto, starring Masa Tayama. Arthur Bliss' exuberantly dashing 'Colour' symphony – one of the great British masterpieces of the 20th century – spins its magic in the second half.
Berlioz: Overture 'King Lear' Op. 4 

Debussy: Danse sacrée et Danse profane 


    Harp soloist Elizabeth Scorah
Ravel: 'Daphnis et Chloé' Ballet 

Our French first concert opens with Berlioz' mercurial and richly programmatic King Lear. Harpist Elizabeth Scorah features in Debussy's dreamily evocative Danse sacrée et Danse profane, followed by Ravel's masterpiece of which he wrote: 'Sumptuous and subtle, I have created the Greece of my dreams.'
Prokofiev Symphony No. 7 in C# minor, Op. 131 

Arutiunian Trumpet Concerto in A-flat major 

    Soloist Martin Bunce
Borodin In the Steppes of Central Asia 

Tchaikovsky '1812' Overture, Op. 49 

The final concert of this season features four short classics. In the first half, Prokofiev's seventh symphony is teamed with Arutiunian's dashing trumpet concerto – featuring our own trumpet principal, Martin Bunce. Afterwards, Borodin's pint-sized tone poem 'In the Steppes of Central Asia' is followed by the careering fire, stirring drums and wild cannon of Tchaikovsky's '1812' Overture. See you there!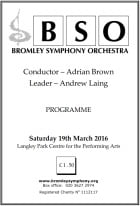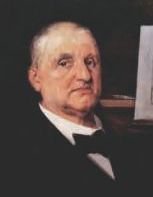 Schubert Symphony No. 5 in B-flat major, D. 485 

Bruckner Symphony No. 9 in D minor 

Our third concert of the season features another clever piece of programming: Schubert's delightfully winning Symphony No 5 is followed by Bruckner's shortest symphony: his seismic, turbulent and (finally) transcendent Ninth Symphony.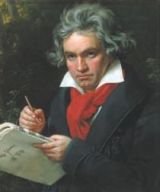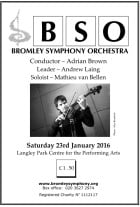 Beethoven Overture: The Creatures of Prometheus
Sibelius Symphony No. 4 in A minor, Op. 63 

Beethoven Violin Concerto in D major, Op. 61 

    Soloist Mathieu van Bellen
Beethoven takes pride of place in our second concert: his powerful 'Prometheus' Overture and his fabulous violin concerto frame Sibelius' moodily brilliant Symphony No 4. We are delighted to once again feature rising star Mathieu van Bellen and his Guadagnini violin, this time in one of Beethoven's most iconic works.