These pages contain programmes and recordings of most of our recent performances. In addition, a list of every piece we have performed since 1960 is on the repertoire page and a history of the orchestra is on the about page.
Many of the sound recordings in this archive were recorded by students on the Tonmeister course at the University of Surrey, for which we are very grateful. Note that explicit approval is required for any photography or recordings, since we must have the consent of everyone involved and pay any extra fees incurred.
Click the programme covers to download the complete programme in PDF format. You can use a browser plugin such as Video & Audio Downloader to download audio and video recordings (start playing the recording to make it appear in the list).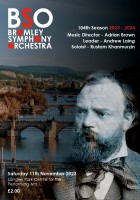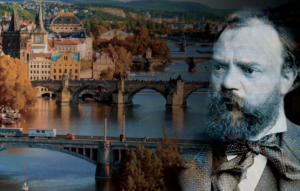 Berlioz Béatrice et Bénédict

Rachmaninov Piano Concerto No. 4


    Soloist Rustam Khanmurzin
Debussy Prélude à l'après-midi d'un faune

Dvořák Symphony No. 5

An evening of wonderfully varied textures, with Berlioz's effervescent Béatrice et Bénédict balanced by Rachmaninov's jazz-influenced Fourth Piano Concerto and Debussy's languorous Prélude à l'après-midi d'un faune. Dvořák's tuneful Fifth Symphony forms the finale.
Delius Violin Concerto


    Soloist: Michael Foyle
Sibelius Symphony 6

Sibelius Karelia Suite

Dvořák's Scherzo Capriccioso, Delius' sunny violin concerto, and Sibelius' masterful Sixth form our season finale – with 'Last Night of the Proms' favourite Karelia Suite as encore.
This season's concerts are supported by the generosity of the ESG Robinson Charitable Trust.
Dvořák Scherzo Capriccioso
Delius Violin Concerto
Sibelius Symphony 6
Sibelius Karelia Suite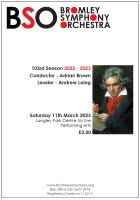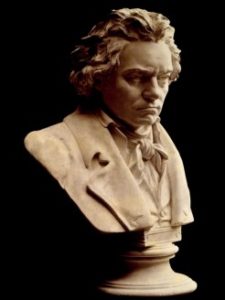 Beethoven  Symphony 6 'Pastorale'

Steel  Kent Invicta

Tchaikovsky  Francesca da Rimini

In our third concert, Beethoven's beloved Sixth ('Pastorale') Symphony is preceded by the final work from our composition competition, and by Tchaikovsky's lusciously romantic symphonic fantasy – Francesca da Rimini.
This season's concerts are supported by the generosity of the ESG Robinson Charitable Trust.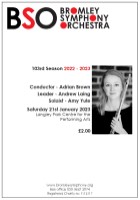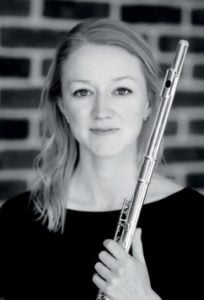 Reinecke Flute Concerto


    Soloist Amy Yule
Mahler Symphony 6  

Mahler's awe-inspiring Sixth – of which Berg wrote, 'There is only one Sixth, Beethoven's notwithstanding' – forms the backbone of our second concert. The brilliant Amy Yule, principal flute in the Hallé, is showcased in the Brahmsian Reinecke flute concerto.
This season's concerts are supported by the generosity of the ESG Robinson Charitable Trust.
Elgar Cello Concerto


    Soloist Alice McVeigh
    Conductor Simon McVeigh
Vaughan Williams Sinfonia Antartica


Celebrating 150th anniversary of the composer's birth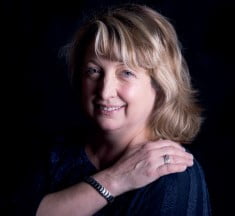 In honour of Vaughan Williams' 150th anniversary, his atmospheric and monumental Sinfonia Antartica features for November. Elgar's immortal cello concerto will be performed by Alice McVeigh, herself celebrating 40 years leading our cello section. Smyth's dramatic overture opens this intensely English concert.
Supported by the Vaughan Williams Charitable Trust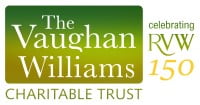 As a bonus, our children's concert features Rossini's lively "William Tell" overture, themes from the Harry Potter films, and Paul Patterson's clever and winningly dramatic Red Riding Hood.
Note: This is an additional concert, outside our regular seaon. Tickets for this concert cost £5 for under 18s, £15 for adults.
Our final concert of the 2021/22 season represents catnip for romantics: Respighi's Fountains of Rome is followed by a ten- minute work by a finalist in our composers' competition (Robert Ely). Afterwards, the prizewinning Callum Smart delivers Korngold's rhapsodic violin concerto. What could possibly follow that, except for Dvořák's "New World" Symphony?
Adrian Brown interviewed about this concert on BBC radio – excerpt from The Dominic King Show 12th May 2022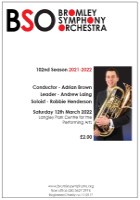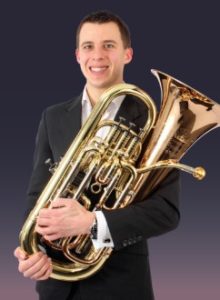 Nicolai Overture to The Merry Wives of Windsor

Horovitz Concerto for Euphonium


    Soloist Robbie Henderson
Mendelssohn Overture A Midsummer Night's Dream

Bruckner Symphony No 6

In our third concert, Horovitz's virtuosic yet engaging Concerto for Euphonium (with rising star Robbie Henderson) is framed by two overtures: Nicholai's jovial Merry Wives of Windsor and Mendelssohn's irresistible Midsummer's Night's Dream. Bruckner's shortest and perhaps most classical symphony completes the concert.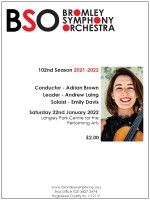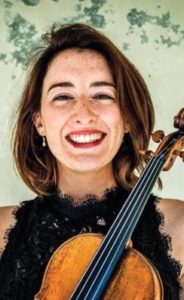 Vaughan Williams Wasps Overture

Vaughan Williams The Lark Ascending


Peter Longworth In the golden sky, the swallows turn
    Soloist Emily Davis
Vaughan Williams English Folk Suite

Bax Symphony No 6

Redolent of the glories of the English countryside, our second concert begins with Vaughan Williams' glittering "Wasps" Overture. We then feature the wonderful Emily Davis in the much-loved Lark Ascending (and in Longworths' delicate tribute to the same). Bax's gloriously powerful Sixth Symphony encompasses the second half. ("The work marches irrevocably from point to point with the inevitability of mastery." – its first review.)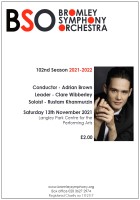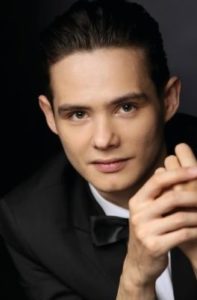 Beethoven Overture Leonora No 3

Beethoven Octet for Wind

Bartók Piano Concerto No 3
    Soloist Rustam Khanmurzin
Mendelssohn Scottish Symphony

Our season opens with Beethoven at his grandest – Leonora Overture No. 3 – followed by Beethoven at his most intimate – his wind octet. Then the gifted Rustam Khanmurzin plays the folksong inspired Third Concerto for piano by Bartók. Mendelssohn's scintillating Scottish symphony wraps up the concert with a Celtic flourish!