These pages contain programmes and recordings of most of our recent performances. In addition, a list of every piece we have performed since 1960 is on the repertoire page and a history of the orchestra is on the about page.
Many of the sound recordings in this archive were recorded by students on the Tonmeister course at the University of Surrey, for which we are very grateful. Note that explicit approval is required for any photography or recordings, since we must have the consent of everyone involved and pay any extra fees incurred.
Click the programme covers to download the complete programme in PDF format. You can use a browser plugin such as Video & Audio Downloader to download audio and video recordings (start playing the recording to make it appear in the list).

Hector Berlioz


Eurico Pereira

Berlioz 'Roman Carnival' 

Ravel 'Rapsodie Espagnole' 

Rodrigo 'Concierto de Aranjuez' 
    Soloist Eurico Pereira (Guitar)

Respighi 'Roman Festivals' 

This programme burns with Mediterranean heat and passion, opening with an exuberant overture, one of Berlioz's most popular works. Ravel's Spanish "Rapsodie" has three short movements of sensuous colour and elegance and a dazzling finale. Staying in Spain, the Rodrigo is perhaps the most well known of all guitar concertos, especially its evocative slow movement. Respighi said that "Roman Festivals", his vivid celebration of ancient Rome, represented his absolute peak of orchestral sonority and colour. It's certainly that!

Sergei Rachmaninov


Masa Tayama

Tchaikovsky 'Hamlet' Fantasy Overture

RachmaninovPiano Concerto No.2
    Soloist Masa Tayama

Rimsky-Korsakov 'Scheherazade' 

In a programme of romantic Russian music, what could be more romantic than this lovely concerto, familar even to non-classical music lovers through its use in the classic film "Brief Encounter"? Before that,"Hamlet" captures the many moods of the Bard's great play. In Rimsky-Korsakov's colourful suite, based on the age-old "Tales of 1001 Nights", the solo violin represents Scheherazade as she tells a series of enthralling stories that will spare her life.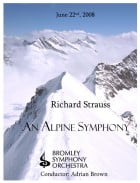 Day Workshop at Bishop Justus School
Richard Strauss Alpine Symphony
We ran a day's workshop on Richard Strauss's epic 'Alpine Symphony' at Bishop Justus School. Given its scale and complex scoring, this was not a work that we could ever afford to include in a concert performance, but this was a wonderful opportunity to play this Strauss masterpiece. We spent the day working on it with Adrian before an informal performance in the early evening, which was open to the public.
Adrian introduced the work at 5.50pm, followed by an informal performance at about 6.10pm (ending around 7pm).
The session was free, but donations were welcome; no tickets were issued.
Gustav Holst

Bax

'

Tintagel' – Tone poem 

Arnold 'The Inn of the Sixth Happiness' – Suite

Holst 'The Planets' Suite
    with the choir of Newstead Woods School

Bax's tone poem dramatically portrays the Cornish castle, high above rocks, battered by the waves. Its Celtic flavour hints at the legend of King Arthur. Sir Malcolm Arnold was a prolific composer, who wrote in many genres including music for over 100 films, winning an Oscar for 'Bridge on the River Kwai' and an Ivor Novello Award for 'Inn of the Sixth Happiness'. Holst's 'Planets' Suite was described by him as 'a series of mood pictures', and is based on astrological ideas. It uses a huge orchestra, sometimes with enormous power and sometimes with extreme delicacy, making a splendid sonic spectacular conclusion to our season.
Pyotr Tchaikovsky

Dvořák'The Noonday Witch'

MendelssohnViolin Concerto
    soloist – Jeanine Thorpe

TchaikovskySymphony No. 4

Dvořák wrote some highly colourful symphonic poems, which graphically illustrate rather grisly stories. The Mendelssohn concerto is rightfully one of the most loved of all concertos. The symphony opens dramatically with a foreboding 'fate' motif which leads us through gloom, melancholy and recovery to a joyous finale based on Russian folksong.
Anton Bruckner

Schubert Overture – 'Rosamunde'

Strauss Duett-Concertino
   soloists – Massimo Roman (clarinet)
   & Stephen Fuller (bassoon)

BrucknerSymphony No. 7

Schubert wrote much charming, tuneful music in his short life and this overture shows both these qualities. Strauss's solo clarinet masquerades as a princess and the bassoon as a bear who turns into a prince when they dance together. Bruckner's symphonies are like magnificent cathedrals in splendour, the famous slow movement of the Seventh being a glorious tribute to his idol, Wagner.
Sir Edward Elgar

Delius

(ed A Summers)

The Walk to the Paradise Garden

Bloch 'Schelomo' – Hebraic Rhapsody
    solo cello – Alice McVeigh

ElgarSymphony No. 2

The season opens with Delius's seductive and melodious 'Walk', a perennial concert hall favourite. In 'Schelomo', Bloch personifies the cello as the reincarnated voice of King Solomon, giving the virtuoso soloist a magnificent emotional range. Our symphony celebrates the 150th birthday of arguably this country's greatest composer with his wonderful evocation of Edwardian England.
Day Workshop
Stravinsky The Rite of Spring

This work is a major landmark in the musical world. Its first performance in 1913 caused a riot, but it has now taken its rightful place as a staple part of the symphony orchestra repertoire.
It would be very difficult to include Stravinsky's ballet masterpiece in our formal concert series, as the stage area will not accommodate the forces required (including quintuple woodwind, eight horns, five trumpets, two timpani players etc). We took the opportunity to work on it with our conductor Adrian Brown on Sunday 10th June.
We rehearsed over several sessions during the day, and the final session was open to the public. Adrian  introduced the work at 5.30pm, followed by an informal performance at about 6pm (ending around 6.30). The hall was set up "in the round" to enable us to accommodate the resources required and to allow the audience to get up close to the action!
The session was free, but donations were welcome; no tickets were issued.

Richard Wagner

'Opera Evening'

Berlioz Royal Hunt and Storm

Mozart (arr Wendt) Marriage of Figaro (Suite)

Leoncavallo I Pagliacci – Prologue
    soloist: Edward Grint

Wagner Ride of the Valkyries & Die Walküre Act 3 extracts
    soloists: Christine Teare and Sir Donald McIntyre

This concert depicts storms – of emotions in Leoncavallo's tragedy; of the elements pictured by Berlioz around the troubled romance of Dido and Aeneas; of domestic intrigue and upheaval in Figaro; and of the passions of Wagner's Gods and warrior-maidens. But it also portrays the calm of emotion spent. A spectacular conclusion to our musical season.

Johannes Brahms
in 1876
Beethoven Egmont Overture

Bliss Violin Concerto
soloist: Bernard Brook

Brahms Symphony No. 1

Beethoven portrays a heroic struggle for freedom from Spanish religious oppression in the Netherlands. Bliss lived through the upheavals of world wars, holding fast to his optimism. Brahms took up the challenge of Beethoven, in a symphony of titanic conflict, resolved in a blaze of light.

Bromley Symphony Orchestra gratefully acknowledges the financial support of The Bliss Trust for this performance of the Bliss Violin concerto. Fans of the composer may also be interested in the activities of the Bliss Society.
Introduction and Beethoven: Egmont

Bliss: Movement 1

Bliss: Movement 2

Bliss: Movement 3

Brahms: Introduction and Movement 1

Brahms: Movement 2

Brahms: Movement 3

Brahms: Movement 4