These pages contain programmes and recordings of most of our recent performances. In addition, a list of every piece we have performed since 1960 is on the repertoire page and a history of the orchestra is on the about page.
Many of the sound recordings in this archive were recorded by students on the Tonmeister course at the University of Surrey, for which we are very grateful. Note that explicit approval is required for any photography or recordings, since we must have the consent of everyone involved and pay any extra fees incurred.
Click the programme covers to download the complete programme in PDF format. You can use a browser plugin such as Video & Audio Downloader to download audio and video recordings (start playing the recording to make it appear in the list).



Dmitri Shostakovich

Richard Strauss

Don Juan

Mozart Piano Concerto No. 23 K488
    soloist: Tracey Renwick

Shostakovich Symphony No. 10

Shostakovich's symphony was in part a public reaction to Stalin's death, and in other ways an enigmatic and private work entwining personal mottos from an emotional relationship. Its dramatic power is complemented by Strauss's brilliant tone-poem, and the sublime intimate melodies of Mozart's concerto.
Ludwig van Beethoven

'Simply Famous'

Grieg "Peer Gynt" (selection)

Mozart Horn Concerto No. 3
    soloist – Roy Banks

Beethoven Symphony No. 3 – "Eroica"

Why does some music gain universal popularity and fame? Great tunes, freshness, vitality, romance, drama – all are shown in this concert. Grieg's spirited portrayal of the adventures of 'Peer Gynt' is among the most played orchestral music. Mozart's humour and high spirits in a showpiece for the French horn has immediate appeal. And on every hearing, the revolutionary drama of Beethoven 'Eroica' strikes the listener anew with the shock of a journey from tragedy to triumph.
Sir Edward Elgar

'The Composer's Inspiration'

Bach (arr Elgar) Fantasia & Fugue in C Minor

Anthony Payne "Spring's Shining Wake"

Elgar (realized Payne) Symphony No. 3

The idea of this very colourful orchestration of Bach's great organ work came from a meeting between Elgar and Richard Strauss. After the death of his wife in 1920, many believed that Elgar's inspiration had faded. However, reviewing the sketches for Elgar's unfinished last symphony, Anthony Payne found the music 'leapt from the page' for his acclaimed and deeply satisfying completion which he will be introducing at this concert. We celebrate Payne's own 70th birthday with a performance of his serene work, which was inspired by Delius's 'In a Summer Garden'.
Pyotr Ilyich Tchaikovsky

'Darkness into Light'

Sibelius "Pohjola's Daughter"

Shostakovich Violin Concerto No. 1
    soloist – Alex Afia

Tchaikovsky "The Nutcracker" Ballet – Act 2

Sibelius's overture tells a story from Finland's epic poem 'The Kalevala' in which an old magician tries to woo an alluring, beautiful maiden. We welcome Shostakovich's Centenary year with this concerto, which begins darkly with driving energy, and after a subdued slow movement with one of his warmest melodies, ends in a festive finale. By contrast Tchaikovsky's 'Nutcracker' offers a fairy tale entertainment with charming and popular dance music.
Gustav Mahler

'The Sounds of Nature'

Mahler Symphony No. 3

with "The Carroll Singers" and Trinity Boys' Choir
    mezzo soprano – Miriam Power

In Mahler's romantic vision 'a symphony is like the world, it must contain everything'. His third symphony, written at his retreat in the Austrian Alps in 1893-4, was first titled 'A Summer Morning's Dream' and is a wonderful orchestral pageant of nature and human experience. It includes a sublime movement for soloist and chorus, and ends in an exultant finale 'What Love Tells Me'.
BerliozOverture 'Le Corsaire'

Brahms Violin Concerto
    soloist – Shlomy Dobrinsky

Prokofiev Symphony No. 5

Le Corsair is a concert showpiece, with the swashbuckling pirate, swift and brilliant in adventure, calmed with beautiful expressive melody, providing images of Berlioz's own passionate personality. In more reflective style, Brahms's Violin Concerto is full again of lovely melody and rich orchestration, in a work written for his great friend and adviser Joseph Joachim. Finally, a world away in war-torn Soviet Russia, written by Prokofiev in 1944 the Symphony No.5 is a glittering and heroic work, full of sharp wit and flowing song-lines, contending with powerful external forces.
Glinka Overture 'Ruslan and Lyudmila'

Tippett Ritual Dances from 'A Midsummer Marriage'

Schubert Symphony No. 9 – ('Great C major')

Glinka's overture to his opera Ruslan and Lyudmila is full of sweeping melodies and driving rhythms, describing the battle against sorcery to win the hand of an enchanted princess. In Michael Tippett's opera The Midsummer Marriage, the lovers' path is also attended by magic, portrayed in the Ritual Dances of the seasons, ending with a rapturous climax in the summer fire-dance. The last work, Schubert's 'Great' Symphony No. 9, of striking rhythmic vitality and sheer lyrical beauty, was famously described as 'heavenly length' by Schumann.
Walton Overture 'Scapino'

Bliss BalletSuite 'Checkmate'

Elgar 'Falstaff' – A Symphonic Fantasy

Scapino, a servant in the Italian Art of Comedy, is the subject of one of Walton's most popular works. It opens in a blaze of bright light and high spirited mischief, leading on to Scapino the lover in a serenade, before more escapades. The ballet Checkmate by Arthur Bliss (later knighted and Master of the Queen's Music) depicts a contest on the chessboard between good and evil, through music of fantasy and harmonic freshness. Elgar's symphonic poem Falstaff takes us back to the theatre, with a portrait of Shakespeare's larger than life character, a chancer, charmer and braggart, ultimately broken hearted in his rejection and death.
MozartSymphony No. 39

Richard Strauss 'Ein Heldenleben' ('A Hero's Life')

Our first concert of the season contrasts the classical elegance of Mozart with the extravagant expression of Richard Strauss. Of Mozart's last three symphonies, No 39 is least played, a work of inspiration, joyful exuberance and sombre introspection, that can still surprise and delight. In A Hero's Life Strauss portrays his life as an epic struggle, between his inner life and love for his wife Pauline, a famously temperamental singer, and the outer world, battling for understanding and recognition of his work against his adversaries – the critics!
Franck Le Chasseur Maudit
Bruch Scottish Fantasy
Dvořák Symphony No. 9 From the New World opus 95 in E minor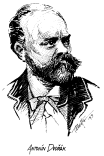 Franck vividly depicts an "accursed huntsman" who is damned because he goes hunting on a Sunday. The 'Scottish Fantasy' is Bruch's "other" great work with solo violin, and incorporates portions of Scottish folk tunes in each of its four movements. To finish our season we celebrate the centenary of Dvorák's death in the best possible way, by performing the 'New World', his most famous and popular composition.